What are the major goals of the project?
The goal of this Tulane/Xavier Undergraduate Research Mentoring (URM) project, Enhancing Diversity in Environmental Biology (EDEB), is to recruit and mentor underrepresented minority undergraduate students from Xavier and Tulane Universities and prepare them to gain admission and successfully complete graduate programs in environmental biology.
What has been accomplished under these goals?
1. Major activities
2. Specific objectives
3. Significant results, including major findings, developments, or conclusions (both positive and negative)
4. Key outcomes or other achievements
In the summer of 2012 we recruited 7 new interns from Xavier and Tulane. Students were selected based on GPA, recommendation letters and specific interest in the field. Information regarding the EDEB program was disseminated using flyer, office of freshman studies and announcement in the classrooms.

The newly selected interns were enrolled in an intensive, five-week short course in environmental biology research techniques (Environmental Biotechniques, EB 101) accompanied by lectures. This course exposed a new community of undergraduate students to the basic techniques currently employed in environmental biology research. All students received training in scientific principles of research, research ethics, networking, and publication as essentials in a research career.

Upon successful completion of the techniques course in the summer, students were placed in the lab of a Tulane or Xavier URM project faculty. The following spring, students were allowed to continue a related project in the Tulane or Xavier-partnered laboratory. Students who completed one semester of research with a faculty mentor presented their work at the Student Research Symposium hosted by Tulane University. Also, the iinterns presented their work at the festival of scholars organized by the Xavier University Center for Undergraduate Research. This year five interns of our URM program presented their research work at the Annual Biomedical Research Conference for Minority Students (ABRCMS).

What opportunities for training and professional development has the project provided?
The students in this project have many opportunities for training and professional development. All students participate in a summer program in which they are trained to think as research scientists, including scientific methods and ethics. These professional training exercises are conducted through out the program. Professional development opportunities are provided by the participation of students in a research symposium held at Tulane for students and faculty. Professional development and training are further provided by the participation of students in the Annual Biomedical Research Conference for Minority Students (ABRCMS) meeting. Travel costs are covered by the project and project staff or faculty accompanies the students. There are numerous training sessions at the meeting as well as each of our students has the opportunity to present their work to their colleagues.

How have the results been disseminated to communities of interest?
As part of the recruitment effort, there is widespread dissemination through print media, oral presentations, word of mouth communications and web based media of the richness of undergraduate research in environmental sciences. This information reaches students, faculty and staff at both Tulane and Xavier Universities. Parents are also often informed.

What is the impact on the development of the principal discipline(s) of the project?
The project has direct impact on the teaching of environmental biology, but incorporating a multidisciplinary approach across the sub disciplines of cell and molecular biology, chemical engineering, chemistry, pharmacology, ecology, water resource management, air quality engineering, and soil contaminant intervention. It engages undergraduate students in the topic by moving them from very basic biology to applied science.

What is the impact on other disciplines?
The multidisciplinary nature of the project introduces faculty from different backgrounds to the principles and techniques of other disciplines enhancing the capacity of faculty to see and incorporate other approaches to their work.

What is the impact on the development of human resources?
By recruiting under-represented minority students the project has a direct and immediate impact on the diversity of environmental science in general and environmental biology in particular. Students with little or no background in the concept of postgraduate work in the sciences are recruited through a variety of techniques and provided with the tools to envisage and participate in a future of scientific research. Graduate work in the environmental fields is very deficient in minority members and practitioners at the work force level are very few. This project will have a measurable impact.

What is the impact on physical resources that form infrastructure?
One impact is the allocation of a conference room and student workspace on the Tulane downtown campus and one resource lab on each of the three participating campuses.

What is the impact on institutional resources that form infrastructure?
The project has provided an umbrella for emerging research projects that seek to recruit minority undergraduate student researchers. For example, a major (funding?) multi-instituional research project on the chemistry of oil dispersants housed in the Department of Chemical Engineering at Tulane University shares the same project manager and some faculty mentors as this project. The annual meeting held at Tulane now also involves students and faculty members from both projects.

What is the impact on society beyond science and technology?
This may be the biggest impact of the project. By exposing under-represented minority students to STEM disciplines at the interface of undergraduate and graduate levels the scientific literacy of our country is materially improved for a generation. Students who do not go on to graduate school in this project are irrevocably imprinted with the sense of excitement and importance that is generated by being part of the scientific endeavor. But how would you ever quantitate this?
As part of a long standing partnership between Tulane University (a Carnegie I University) and Xavier University (an Historically Black College or University), a research mentoring program was established in 2009 to recruit underrepresented minority students to the basic or applied biological sciences and improve the diversity of the national work force. Enhancing Diversity in Environmental Biology (EDEB) program utilized a mentoring triad of Tulane faculty with Xavier faculty and a student from either university. The program recruited only a small number of students each year so that they could be intensively mentored and followed long term. Fifteen years of experience in mentoring minority students, post docs and faculty led us to believe that small numbers mentored over the long-term work best. We also were committed to identifying students who had aptitude and interest in science even though their academic records were less than outstanding. We focused on providing the tools for scientific literacy and success for students who would become part of the scientific workforce.

At the beginning of each fellowship, the student had a summer long orientation where faculty mentors and other students interacted with the new fellows to introduce them to the research opportunities in the program. The focal component of this orientation is the Enivironmental Biotechniques Course. Key elements include: effective mentor selection, scientific ethics, successful navigation of graduate school, GRE preparation, and platform presentation preparation. Successful completion of the the orientation is followed by 3 semesters of mentored research in the laboratories of Tulane and Xavier faculty.
Once a permanent laboratory is selected, the intern is required to give a platform presentation during the Annual Summer Research Academy Symposium. This experience provides each intern with constructive criticism from Faculty mentors. In addition to faculty, staff and students many family members of the fellows attend and have a chance to interact with other students and faculty. We have found that this public involvement adds to the viability of the students in the program.

EDEB fellows also make poster or oral presentations at the Annual Biomedical Research Conference for Minority Students (ABRCMS). This is the largest professional conference for minority students interested in STEM disciplines with over 1500 undergraduate participants. Ithas been an ideal forum for networking with other students and faculty as well as an opportunity for connection and recruitment from over 500 graduate programs.
Over the time period of EDEB, twenty-five undergraduates were chosen for the program. Of these, nineteen were Xavier students and six were Tulane undergraduates. Twenty students were African-American, four Vietnamese-American and one Japanese-American. The students ranged from first year to third year undergraduates at the time of entry to the program.

Faculty mentors were equally distributed between the two universities; six from each.
While nine students are still undergraduates, of those who have graduated, one is in her second year as a PhD student in the Chemistry Department at Tulane University, one is just starting a PhD program in Chemistry at the University of Michigan, one is finishing a MS degree in Environmental Biology and Entomology at Montana State University and is being recruited by several PhD programs in Entomology. One student is enrolled in an MS program in Science Education at Xavier while currently working as an elementary school teacher. Two students are employed as research technicians in laboratories. In professional fields, two students are in the College of Pharmacy at Xavier University; both students are engaged in research in the College of Pharmacy. One student is in dental school. Two students are applying to Medical School and one to Dental School. Of the remaining nine undergraduates, we anticipate three entering PhD programs by 2015.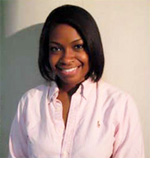 Rosalyn Kent
Xavier University of LA '13
Chemistry B.S.
EDEB Scholar


Good afternoon, I wanted to personally inform you of what has occurred since our last EDEB meeting. I was very successful with my final exams and I have completed my Bachelor of Science in chemistry at Xavier! I took the GRE during the first week of December, just in time to apply to the University of Michigan. On last week, I was admitted into the University of Michigan Rackham Graduate School and the PhD program in Chemistry. I am overwhelmingly excited about this opportunity and I plan to accept their extremely generous offer. I have the opportunity to begin the program in the summer or fall of this year, but I have not decided just yet; I am still searching for a good mentor/ project in their department. I just wanted to thank you for the opportunity to be an EDEB scholar and I am very grateful to you and the awesome team of EDEB mentors. This research program has changed my life and truly opened my eyes to opportunities that I would have never known. Thank you and I hope to make you proud!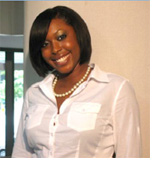 Shavonn Reezale
Whiten Master of Science candidate
Entomology Graduate Research Assistant
Department of Land Resources and Environmental Sciences
Montana State University


Dear Dr. McLachlan, Thank you for taking time out of your schedule and Thanksgiving break to write a letter of recommendation on my behalf. I will be home December 18, 2013 and would love to arrange a time to sit and catch-up. I truly appreciate all the knowledge and skills you guys equipped me with during my time as an EDEB scholar. It has served as the solid foundation, for which I have constantly been building upon. Hope all has been well and I will be sure to keep you posted on the progression of my PhD application process. Once again, Thank you for everything.